This
post
was originally published on
this site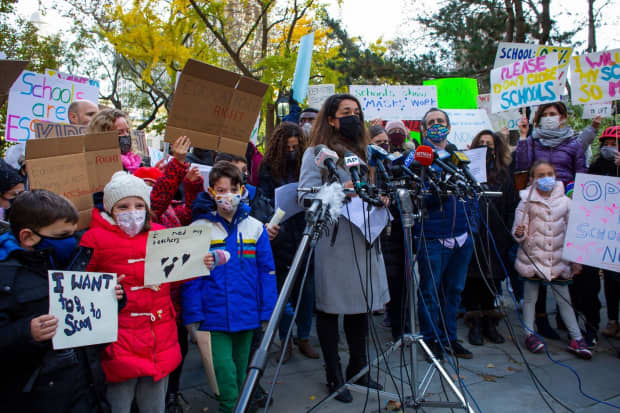 Children take part in a protest against school closures outside New York's City Hall November 19.
AFP via Getty Images
On the heels of the closure of New York City public schools, officials have warned that indoor dining and fitness facilities are likely to be next to shutter over concerns of the spread of COVID-19.
"I don't think it's 'if' the city is going into an orange zone, but when," Mayor Bill de Blasio said in his daily news conference on Thursday, referring to one of the state's three precautionary zones in its micro-cluster strategy.
The announcement comes a day after the mayor announced that public schools would close for in-person learning, with no word on when they would reopen. The administration warned parents of the potential closure last week, but many were angry at what seemed like a last-minute announcement.
Some beleaguered parents, who already dealt with delays in opening in September and other unexpected changes, expressed outrage that gyms would remain open and indoor dining would continue while schools are closed.
However, declaring the city an orange zone — a geographic area with a positivity rate above 3% on a seven-day rolling average for 10 days which would force such closures — is in the hands of Gov. Andrew Cuomo, the mayor explained.
And, based on conversations with the governor, those closings are all but inevitable, de Blasio said.
"The governor made clear [Wednesday] that it's just a matter of time before indoor dining will close and other types of things [like] gyms," de Blasio said. "It's very likely to be in the next week or two."
In New York City, the positivity rate was 2.36% on Wednesday, according to the city. The seven-day rolling average was 3.01%. Statewide, the positivity rate was 2.7% on Wednesday, which includes the micro-cluster zones, according to the state. That's down from 3.4% the previous day. The positivity rate without those zones was 2.3%.
Closing schools was based on the city's positivity rate rising to 3%, a threshold that was set before schools reopened in September, de Blasio said.
In his news conference on Thursday, Cuomo noted that school closures were up to the local governments.
"They can do a policy within parameters, but if there's a conflict with the state policy, the state policy governs," he said.
If the positivity rate continues for more than 10 days and the city enters the orange zone, nonessential businesses such as gyms, salons and other personal services will have to close their doors. In addition, indoor dining at restaurants will no longer be permitted, although takeout, delivery and outdoor dining would still be allowed.
Throughout the state, schools in orange zones can "test out" of closures, according to state guidelines. After a temporary closure, during which the building is cleaned and students and teachers are tested, a school with a low positivity rate can reopen.
See: 'We're alarmed': CDC issues blunt statement against travel this Thanksgiving
But in New York City, which has about 1.1 million students in its public school system, the next steps are unclear. The mayor stressed the need for continued testing, and said new standards for reopening would be announced in the coming days.
"Our schools have been safe, extraordinarily safe," he said. "We've got to keep it that way. We can't just stand pat with a strategy that worked before when conditions are changing, we need to reset the equation. We need to come up with even more stringent rules to make schools work."